Fanon MV10s Megaphone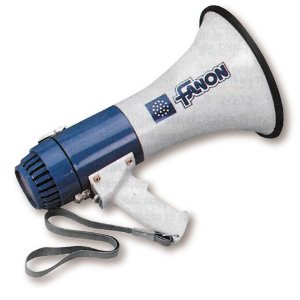 Click Here
This is definitely not the first Fanon megaphone we have seen here, but the excitement of getting our hands on another of these great models has not worn off yet.
We have previously reviewed the Fanon MV20s bullhorn megaphone, and despite being pretty expensive, it is a truly remarkable bit of kit that really gets the job done in any weather, in any environment and for any event.
As you can probably deduce from the model numbers, this Fanon MV-10s is the little brother to the more powerful 20 Watt minimum power that you get from the MV-20s.
With 16 watts of power, this smaller - but still powerful megaphone - has been designed and engineered to be able to amplify your voice over a modest 600 yards. Whilst not as powerful as the 1000 yard megaphones, it still packs a punch. The benefit of buying a Fanon megaphone - no matter what model you get - is that they really do what they say on the tin and are robust and reliable to boot.
There is a reason that these well engineered megaphones are used by the US Armed Forces for training and operational deployments, and this 10s is no exception.
It is suited to both indoor and outdoor use, and with its variable volume control, you are guaranteed not to blow the ear drums of anyone in a confined space. It has a remarkably robust housing, and you can throw it about on the conrecte or brick walls without worrying too much that it is going to fall apart on you - not something that can be said for the smaller generic brands that get imported from China.
The inbuilt microphone is very reliable, and projects and amplifies your voice very clearly. It also has the benefit of a foghorn function, which we don't often see in these smaller, less powerful models
All in, this is another amazing offering from Fanon. You pay slightly more for their products, but you can rest assured that the money you do spend is well invested, as these megaphones will serve you well for years to come.
You can check out the Fanon MV10S Megaphone
over on Amazon, who offer the best prices around.