Megaphone - ThunderPower 100 - 12 Watts of Power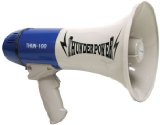 Click Here
I suppose it's only natural that as a new ThunderPower megaphone is released, then we would put up a review of this great brand. We already have the ThunderPower 150 and 200 bullhorn megaphones reviewed here, so whilst this 100 is the baby brother of the group, it is definitely worth mentioning as it will surely satisfy someone's need out there who does not need the power of the larger models, but is still looking for a great product and brand to back it up.
What we commonly see with the ThunderPower megaphones is that the clear and accurate sound projection is well above some of the more generic megaphone brands. There are a few bullhorn brands that set the bar high - they are of course Fanon, Pyle, Champion and a bit newer to the scene is ThunderPower. However, their relative "new guy" status does not mean their models are lacking in any way.
Obviously the lower power of this ThunderPower 100 means that it is not going to be the bullhorn megaphone to choose for large scale outdoor events. It is much better suited to indoor events, as the light weight and compact size of this ThunderPower has obviously lead to the sacrifice of raw voice projecting power.
ThunderPower megaphones are considered to be commercial grade kit, and we have not heard a bad thing said about them since we have started reviewing them here on Bullhorn Megaphone.info.
At this lower power end of the market, you have a lot more choice available as to what megaphone to get. However, a lot of choice is not always a good thing, as it can start to complicate things. The most important thing to think about is that you want your megaphone to be reliable, robust and most importantly still working next year - a lot of the cheaper imported generic brands will let you down in this department. ThunderPower are targeted the more light weight end of the market with this 100 model, but it delivers a lot more than those other megaphones in the same class.