Thunderpower 350 Bullhorn Megaphone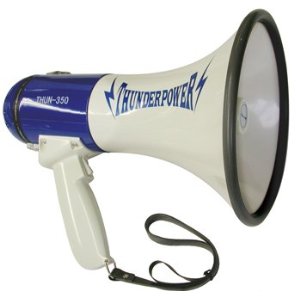 Click Here
This is the first Thunderpower product we have reviewed here on bullhorn megaphone, and we find ourselves embarrassed that such a good product and brand has previously been outside of our reaches.
This compact 25 watt megaphone certainly packs a punch, especially given its size. Marketed as a portable, compact bullhorn megaphone that you can carry around with your events, it is also backed up my claims (and proof!) that is a very durable little item.
The megaphone takes 8x C batteries; so it's going to get quite a bit heavier than when you first take it out of the box. It also includes an inbuilt volume control (as in, quieter or louder) and more importantly, a "push to talk" button that prevents the megaphone from projecting background noise or private conversations if you're coaching or running an event.
Along with some of the big brands (i.e. Fanon), Thunderpower guarantee their products to be a certain standard and to do what they say on the tin.
It is much more comforting buying from these more reputable brands than getting something imported from China, because you know the quality is better, and there is someone to turn to it it goes wrong.
All in, this Thunderpower 350 is a great compact megaphone, and is actually a lot louder than you might think - you'll be reaching for the volume control before too long!
You can find this megaphone over on Amazon, who more often and not offer you the best price going.