Thunderpower 150 Compact Megaphone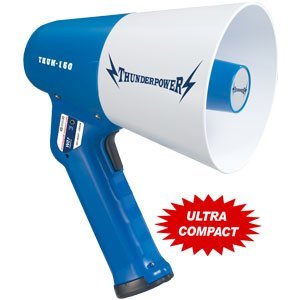 Click Here
This is the second Thunderpower megaphone we have reviewed here on BullhornMegaphone.info and again, we find ourselves unsure as to how such a reliable brand had escaped our attention for so long (this site has nearly been running a year).
Quite often we get caught up in the world of Pyle, Fanon and Champion, but Thunderpower have been working away producing some very sturdy and powerful bullhorn megaphones, and this Comapct 150 is no exception.
With 15 watts of power behind it, this model is certainly not going to win any volume competitions, but it is designed - and succesfully so - as a portable and compact megaphone that you can put in a day sack or easily carry around with you for hours at a time.
Compared to some of the bigger 30 and 50 watt megaphones, this more modest model only takes 8 AA batteries, meaning it is considerably lighter and easier to wield than others.
Normally, we would not advocate such a low powered megaphone for small to medium outdoor events, but Thunderpower have actually put together a very clear and crisp amplifier in this megaphone, meaning the sound carries very well accross distances and won't suffer from the tinny sounds and feedback we get with the generic imported models.
Despite being so compact (about 8 inches long!), Thunderpower have included a siren, whistle and volume control in the model, meaning that you can just rely on one device for crowd control and moving people around. There is also an included detachable microphone for ir you need to pass control of the megaphone around.
Overall, we are very impressed with this mini megaphone for Thunderpower. Obviously with only 15 watts of amplification, it will not suit all circumstances and needs, but for those looking for a lightweight but very capable device, look no further than the Thunderpower 150 Compact Megaphone.
As always, Amazon offer the best prices and customer service for ordering this model. Click HERE
to check this megaphone out on Amazon and for different buying options.