Pyle PMP40 Megaphone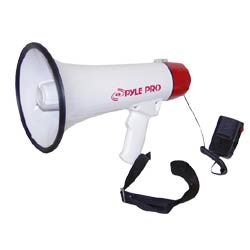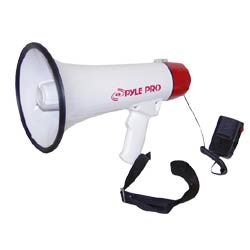 This entry level bullhorn megaphone from Pyle offers a reliable, inexpensive option for those who do not have strenuous demands of amplifying their speech.
As the model name of this Pyle PMP50 bullhorn megaphone (which is reviewed here already).
I have previously made some comparisons between branded and non-branded megaphones (e.g. those Fanon, Pyle and Champion megaphones versus generic imports), and again I must state that you do get some extra reliability and peace of mind when buying a reputable bullhorn megaphone.
Some comments I have heard is that this model can easily be used to communicate over busy traffic noises , so can be used to direct traffic at galas and other outdoor events with no problems. As with any portable bullhorn megaphone, you will not have the best "static" projection from this model as you would from a fixed PA system, but that shouldn't be an issue.
This model boasts between 3 and 7 hours of continuous use, but this is likely to differ, and is certainly hard to keep track of how long you are actually using it continuously for. There is also an optional microphone, but there is no natural place to clip it to the unit when you are not using it; also there is no trigger for quickly flipping it on and off, so you will have to switch it manually.
All in all, a reliable and good megaphone, but not the most exciting model there is. You can also check out the Pyle PMP40 Megaphone
on Amazon, who have a number of different purchasing options.