Fanon MV-20S Megaphone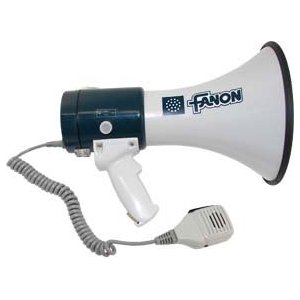 Click Here
The MV-20S, 1000 yard megaphone is no exception. However, as one of the more top end bullhorn megaphones on the market (due to the engineering and power), it is only really relevant for the serious megaphone consumer.
Rated at 20-watts with a peak output potential of 25-watts, this bullhorn megaphone from Fanon delivers some serious amplifying power; this megaphone should easily carry over 1000 yards, so you will need to be careful that it is not too loud for some situations.
Features of the Fanon MV-20S include an integrated hand microphone (which actually attaches to the unit, which surprisingly isn't that common), a built in alarm AND fog horn, and an easy trigger grip push/pull activation mechanism.
If you are looking for a seriously heavy duty megaphone (and don't mind carrying it around with the 8 D cell batteries needed), you really can't go wrong with the Fanon MV-20S Megaphone
.
You can check out the prices bullhorn megaphones if you are still not sure which one is for you.